ORIGIN OF THE SANDWICH BELT HIGH ANGLE CONVEYOR
In 1979 Joseph A. Dos Santos undertook a major study to develop a means of moving and elevating large quantities of bulk materials, including coarse products such as rocks, aggregate, coal, etc. at the steepest possible inclines.
It was also his intent to use only existing and generally available hardware in order to achieve the most economically feasible and easily maintained high angle conveyor design.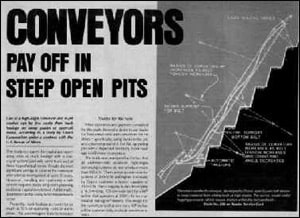 Mr. Dos Santos conceived, researched and developed his sandwich belt design, with the help of a grant from the U.S. Bureau of Mines, while he was employed by a major American manufacturer of materials handling equipment. While such concepts had been tried over the years with mixed results, Dos Santos investigated & analyzed the many forces generated in this seemingly simple concept, and created the formulas which guaranteed the successful design of such equipment. The DSI Snake Sandwich Conveyor represents the ultimate achievement of this aim.
Mr. Dos Santos' research articles have been published in world-wide journals.
What is a Sandwich Belt High Angle Conveyor?
A Sandwich Belt conveyor uses two conveyor belts, face-to-face, to gently but firmly contain the product being carried, hence making steep incline and even vertical-lift runs easily achievable.
What Sandwich belt high angle conveyor profiles are available?
DSI Snake Sandwich Belt Conveyors are available in widely ranging profiles of C and S-Shape. In any case, a long bottom belt approach is possible to the sandwich entrance, and discharge may be on the high incline or may be after the extension of the carrying belt beyond the mouth of the sandwich.