Dos Santos International was awarded a contract to provide their DSI Sandwich Belt high angle conveyor to the Changi International Airport Terminal Expansion in Singapore.
The Sandwich conveyor elevated 800 tph of tunnel muck, at a 45-degree angle.  Tunneling projects using DSI Sandwich Belt high angle conveyors in the past have elevated tunnel muck at a 90-degree angle.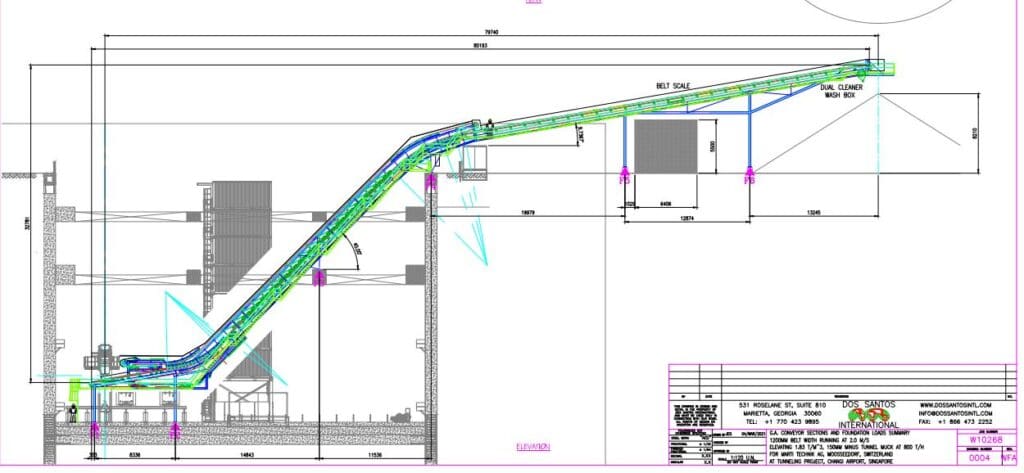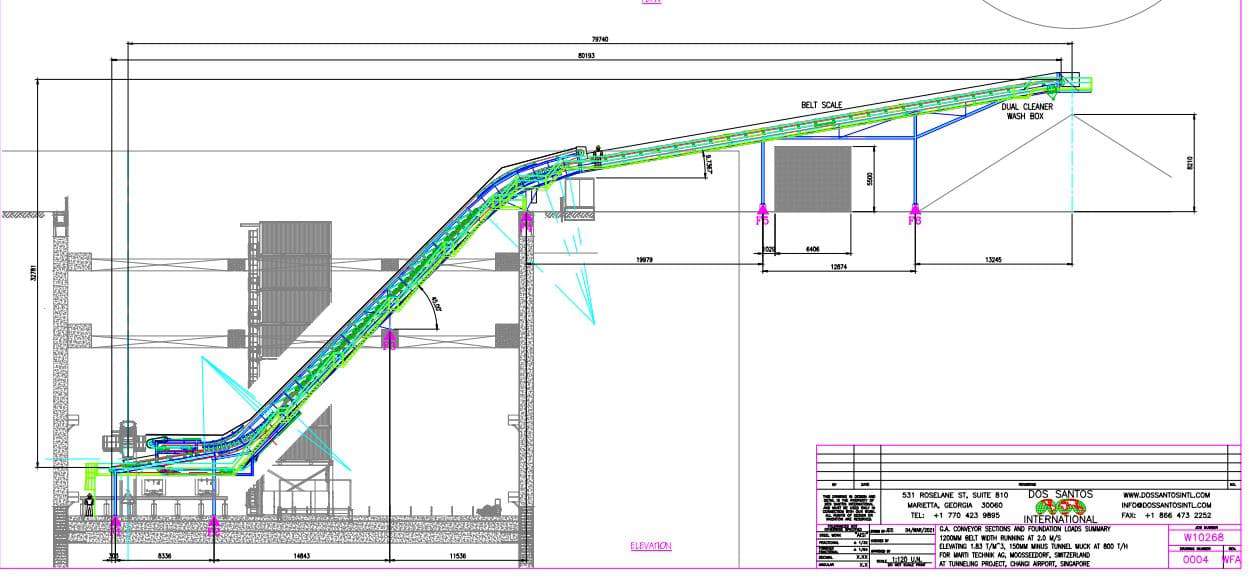 Two DSI Sandwich Belt high angle conveyor units were installed in 2017 for the Paris Metro project.  These elevated sticky tunnel muck at a design rate of 800 t/h.  This was done without appreciably disturbing vehicular or pedestrian traffic.
The particular challenge of the Paris metro project was the requirement to provide a versatile system that has been reused in other tunneling projects.  Accordingly, Dos Santos International designed a system with a high degree of versatility – particularly extend-ability.  With all the drive and take up equipment located at the head end, DSI designed the vertical portion as a hanging structure which can be extended as necessary for higher lifts at future applications.  The two conveyor designs at the two sites in Paris are nearly identical, with only a small difference in the length of the vertical portion.  DSI designed both conveyors for the possibility of increasing the lift to 40-45m.  The two conveyors in Paris have vertical lifts of 24.6m and 26.3m respectively and can be used for any intermediate height up to 45m.  This makes them very versatile for use at future sites.
ABOUT TERMINAL 1 CHANGI INTERNATIONAL AIRPORT
Changi International Airport is one of the world's busiest international airports.  The terminal 1 expansion was started to address the increasing passenger traffic, while ensuring further growth at the T1.  The plan is to expand the terminal's footprint with the redevelopment of the open-air car park located in front of the terminal building.  The open-air car park site creates more space for a larger arrival hall and spacious baggage claim areas.

SEE THE DETAILS OF THE INSTALLATION

Return to Articles, News &amp More
Search & View Installations
References & Resources
Facebook
Twitter
LinkedIn
Email
Print