Dos Santos International recently started up their Sandwich Belt high angle conveyor for Lafarge Holcim at the Sparrow's Point Slag Cement facility.  This Sandwich conveyor is delivering both slag and gypsum to existing storage bins at a rate of 121 tons per hour.
When DSI was approached about this project in natural gypsum, there were two options to consider.  The first was to convey the material vertically to the roof, then run horizontally to a feed bin within the building.  The second option was to feed the gypsum from hoppers with weigh feeders, then discharge to an incline belt at 30 degrees, running inside the building to discharge onto existing mill feed belts.  This would require two parallel systems.  The customer was very interested in exploring the first option with a 50 stph conveyor.
Also, they needed a conveyor system that would be able to fit within the confines of the existing building which was easily attainable with the versatility of the system.  This Sandwich conveyor discharges into a bin inside the building.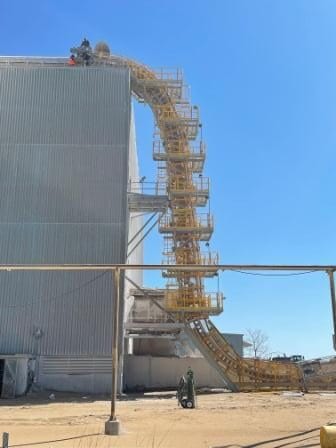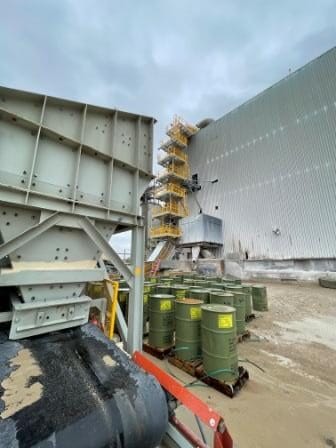 Additionally, the customer requested a hopper 13 feet wide and 7 feet deep.  To eliminate any elevated platforms outside of the footprint of the building roof, the customer asked DSI to take the conveyor system completely vertical and make the top belt drive accessible from the roof of the building.  
The new system gave the plant the ability to blend these two raw materials allowing for a lower cost slag cement product with improved properties.  The added system consists of a new front-end loader feed hopper, an inclined belt feeder, and a Sandwich Belt high angle conveyor.  The newly added system offered a minimized footprint utilizing an 85 degree incline, while preserving the original conventional conveyor feed system.