Dos Santos International has supplied their Sandwich Belt high angle conveyor to SNF Coagulants for a plant expansion in St Avold, France.  With their long-term strategy focused on innovation and investment, SNF chose the DSI Sandwich Belt high angle conveyor solution, along with DSI's innovative approach to maintain a high level of R&D expenditure along with continual investment in improving and expanding its production sites.  SNF now accounts for almost half of all global polyacrylamide production, which underscores the effectiveness of their innovation and investment policy.  
SNF is a privately-held, specialty chemical company based in the Rhone-Alpes region of France, with a long-standing presence on every continent.  With 21 production sites in Europe, Asia, Australia and America, and with a production capacity of 1,235,000 tonnes, SNF has the largest polyacrylamide production capacity in the world.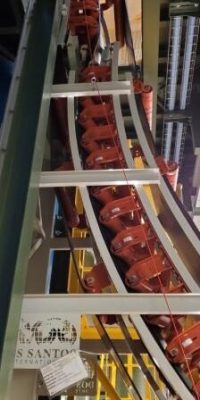 The DSI Sandwich Belt conveyor for SNF Saint Avold elevates magnetite for the process at a rate up to 30 t/h, and draws the material from a hopper, which was also supplied and designed by DSI.  The material is elevated 8.8m where it is discharged into one of the two tanks.  The direction of the material is achieved by a bifurcated chute, also designed and supplied by DSI.  
As a lead in manufacturing and processing water-soluble polymers (based on polyacrylamide), SNF has developed a range of more than 1,000 products that help preserve our natural resources, encourage recycling and improve efficiencies of industrial processes.  Their polymers are used in all markets where water is present:  drinking water production, wastewater treatment, sludge dewatering, oil and gas extraction, mining, agriculture and the manufacture of paper, textiles and cosmetic formulations.