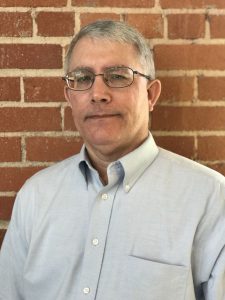 Dos Santos International is pleased to announce the addition of Mr. Tom Hubbert as Vice President of Engineering.
Tom will serve as Vice President of Engineering for Dos Santos International.
Tom began his early career under the direction of now President of Dos Santos International, Joe Dos Santos while at Continental Conveyor & Equipment, Winfield, AL.  There Tom was trained in the sandwich belt high angle conveyor technology at its inception.  He rose to the position of Chief Engineer for Engineered Systems.   Shortly after Joe left Continental Conveyor in 1997 to start Dos Santos International, Tom also departed to join River Consulting in Metairie, LA.  Later he would work for TGS in Houston.  Tom's last, previous
position was Engineering Manager for product development at Syntron Materials Handling in Tupelo, MS.  Finally in 2017, Tom rejoined Joe at Dos Santos International to continue the success of the DSI technology, particularly the flagship Sandwich belt high angle conveyor.
Tom brings over 30 years of experience, including bulk material handling, unit handling, and manufacturing.  His experience includes systems design, import/export terminal design, product research and development, continuous improvement, project management and engineering management.  Specialties include design of high angle sandwich belt systems, long overland conveyor systems, booster drives, large capacity belt feeders, regenerative conveying systems, vibratory feeders, and idlers.  Tom has contributed to several CEMA standards and has served on various CEMA committees over the last 25 years.
Tom is a licensed professional engineer and a graduate of Auburn University, where he obtained his bachelor's and master's degree in mechanical engineering.
Welcome Tom!