Dos Santos International is pleased to announce the award of a contract to provide their DSI Sandwich belt high angle conveyor to Lafarge Holcim at the Sparrow Point Slag Cement facility.  This Sandwich conveyor will elevate 122 tph of natural gypsum at an 85 degree angle up to a feed hopper.
They system is loaded by two different front end wheel loaders to the hopper and feeders.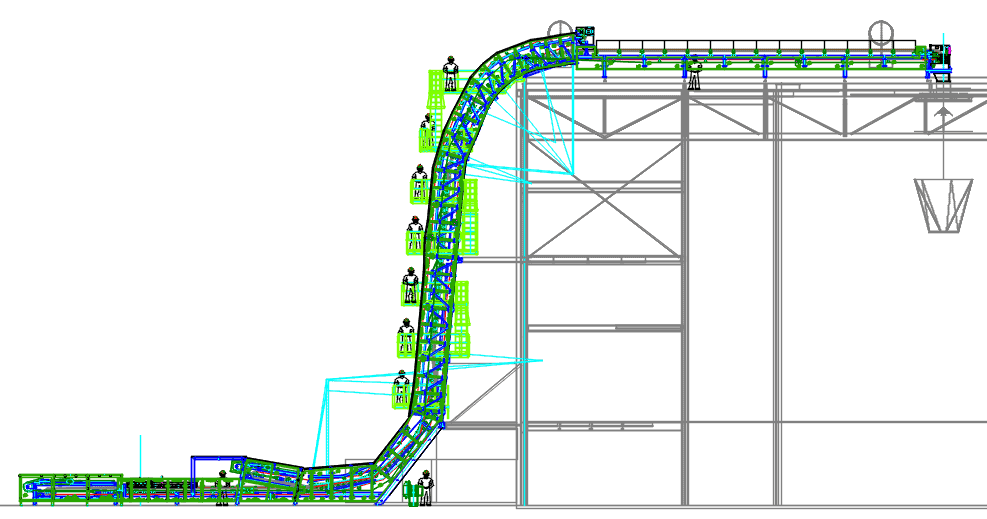 The customer requested that this conveyor system be able to fit within the confines of the existing building which was easily attainable with the versatility of the system.  The Sandwich conveyor then discharges onto a conventional conveyor that feeds to another hopper.
DSI Sandwich belt high angle conveyors take on many forms and offer many advantages.  Each DSI Sandwich Conveyor uses two standard, smooth-surfaced conveyor belts, face-to-face, to gently but firmly contain the product being carried.  This not only makes steep angles possible; it also offers a spillage free, environmentally sound operation because the material remains secured between the belts.
A DSI sandwich conveyor is capable of higher conveying speeds and greater capacities than other high angle conveying methods.  With the availability of wider belts and accompanying hardware, capacities greater than 10,000 t/h can be easily achieved with a DSI Sandwich conveyor.  High angles of 90° are typical, and lifts of 300m are easily accomplished.  
The use of all conventional conveyor parts ensures high availability and low maintenance costs, as well as interchangeability of components and fast delivery of replacement parts.
LafargeHolcim Ltd renamed Holcim Ltd is a French-Swiss multinational company that manufactures building materials. It has a presence in around 70 countries, and employs around 72,000 employees. LafargeHolcim operates four businesses segments: Cement, Aggregates and Ready-Mix Concrete as well as Solutions & Products, which includes precast concrete, asphalt, mortar and building solutions.